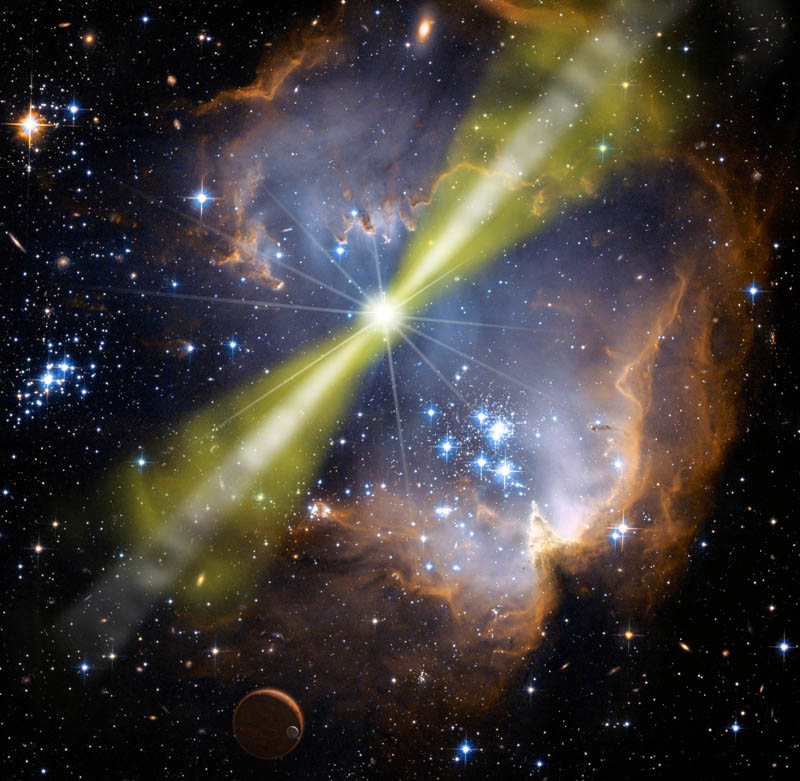 Gamma-ray bursts are a great example of how much astronomers have come to understand events in the universe in the decades since the space age began. In the June episode of The Astronomer's Universe, I talked with Dr. Dale Frail of the U.S. National Radio Astronomy Observatory about these once-mysterious occurrences in the distant cosmos.  They were first discovered during the Cold War, when military satellites detected distant bursts of gamma radiation.  They weren't coming from nuclear bombs, so they clearly had to be the end point of some huge explosion in space. But what?  Some scientists thought they came from nearby space (such as within our own galaxy). These bursts were observed not just in gamma-ray wavelengths, but in x-ray, ultraviolet, optical, infrared, and radio wavelengths of light. The engine for such powerful outbursts was unknown. Could it be two galaxies colliding? A class of supernova explosion called a hypernova? Or something else? Some were known to be very far away, and that begged the question about what could power an explosion seen from across the universe?
Eventually astronomers devised orbiting telescopes to study these outbursts, and ground-based observers collected data about their optical, radio, x-ray, ultraviolet, and infrared afterglows. In the process,they found out that there are two main classes of gamma-ray bursts: long-burst and short-burst. That finding, along with more observations, led them to a couple of different explanations for these explosions. Most gamma-ray bursts seem to be coming from a narrow beam of radiation that is released as part of a supernova explosion. Those bursts are the long-burst variety. The short-burst events are likely coming from the merger of two massive, energetic objects — most likely a pair of neutron stars.
There is still a lot of data to be gathered about these massive, catastrophic events.  For example, the NASA Swift satellite is the latest in a string of orbiting observatories that have actively studied energetic events in the cosmos, including gamma-ray bursts. Ground-based observatories, such as the Very Large Array in New Mexico, will continuing doing follow-up observations of the explosions, and optical observers (including a number of amateur astronomers) will follow-up with visual confirmation of these distant occurrences. Through a combination of all these observations, in the not-too-distant future astronomers will gain a much better insight into the events that cause these massive explosions in space.